A Beginner's Guide to Choosing the Best Boxing Gloves for Women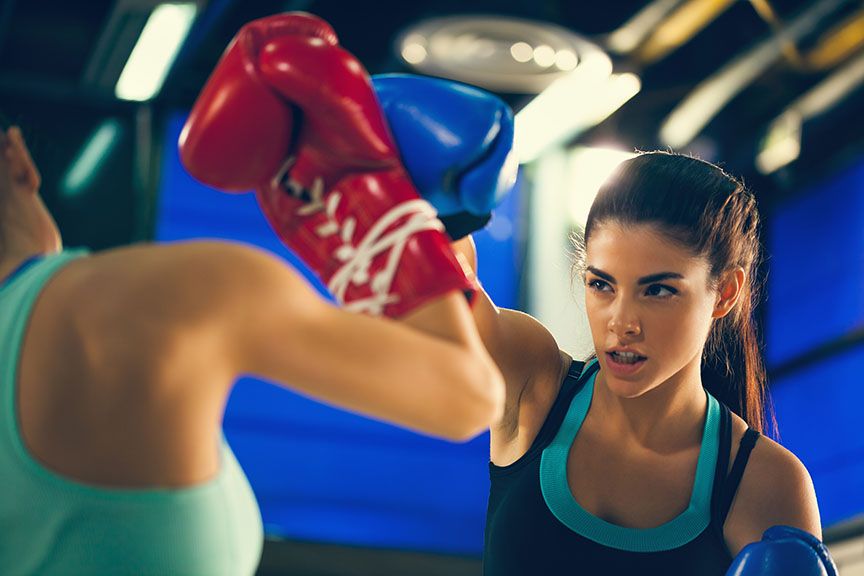 Over the past few decades, more women have become involved in the wonderful world of boxing. With this comes the need for boxing equipment that is well suited for a female, along with the proper education on how to choose the best boxing gloves.
Selecting the appropriate gloves is essential to protecting yourself, as well as your opponent. You will want to consider a few important elements when deciding upon the boxing gloves that are right for you.
The glove type determined by its intended use
Glove size for a safe and comfortable fit
Glove closure based on preference
Materials used in the construction of the glove
The brand's reputation
Whether your goal is to get into shape, become a future pro fighter, or just have some fun, I hope my beginner's guide to choosing the best boxing gloves helps you reach your full potential.
Does My Activity Determine the Type of Women's Boxing Gloves I Would Need?
If you are currently searching for that one perfect pair of women's boxing gloves, you may come to the conclusion that you could require multiple pairs for the various boxing activates you are involved in. This is where the glove type comes into play.
I have compiled a list of common boxing activities that women are involved in and their corresponding glove types so that you can gain a better understanding of what would be best for your situation.
Sparring Gloves: These type of boxing gloves are constructed to protect the sparring partner, as well as your hands. They are typically around 16 oz due to the amount of padding needed to soften the blows and absorb the shock. Sparring gloves are perfect for developing your technique and skill as a new boxer, and are great for women to work on their endurance and stamina.
Bag Gloves: As the name suggests, these particular gloves are typically utilized in hitting heavy bags and other specialty bags while training. The main purpose of this type of glove, specifically modern bag gloves, is to protect the hand. With that being the case, you should not use them for sparring with a partner due to the fact that they do not offer much "give" or resilience.
Training Gloves: If you are a woman who is just starting her boxing journey, and unsure as to what type of glove you may want, training gloves are a great option since they are designed to have multiple uses. Used for training purposes, they are firm enough for bag work, and have enough shock absorbency for sparring.
Traditional Fighting/Competition Gloves: If you plan on competing against other women in the boxing ring, these are the gloves for you. Fighting gloves are designated solely for competing, and are normally pro grade. They have less padding, are constructed for speed and power, and designed to inflict maximum damage. There are regulations that set the standard weight of the gloves that can be used during competition, but they are typically 8 0z to 10 oz. In addition to this, there are two types of fighting gloves – amateur and professional.
Aerobic Gloves: Cardiovascular exercises such as cardio kickboxing and aerobic boxing are a great way for women to keep fit. When searching for the best women's boxing gloves for this activity, you will find that its typical for gloves advertised as aerobic to be poorly made. Be sure to purchase gloves that are of higher quality if you want them to last.
Do Specific Fighting Styles Require Certain Gloves?
Muay Thai and Mixed Martial Arts do require specific gloves. Take a look at a few details that pertain to these styles of fighting and their glove requirements.
Muay Thai Gloves: If you are going to participate in Muay Thai boxing, you will want to invest in a pair of gloves that are specifically designated for this style of fighting. The gloves look similar to traditional boxing gloves, but they are less stiff and therefore allow the fighter to grip their opponent to take them down. There is extra padding on the back of the gloves to better absorb kicks, and the thumb area allows for better cinching and grappling during combat. Like traditional boxing gloves, you will want to pick the best glove for you based on your activity, which would be bag work, sparring, training, clinching/fighting. There is no difference between a man and woman's Muay Thai boxing gloves, however, you may want to choose a lighter glove that is 2 oz to 4 oz lighter than what a man would require.
Mixed Martial Arts (MMA Gloves): Women interested in MMA fighting should only use specific MMA gloves. Using traditional boxing gloves would put you at a disadvantage. MMA gloves have exposed fingers to allow for holding and grappling. As with Muay Thai gloves, you would utilize a glove that is meant for a certain activity. Be sure the gloves you select have a solid velcro wrist strap to ensure they stay in place and are secure around your fist.
What Size Woman's Boxing Gloves Would I Need?
After you figure out your glove type, you should focus on looking for boxing gloves that fit properly. Your hand should feel comfortable and not forced into the glove. A glove that is too small can be uncomfortable and interfere with your concentration. A glove that is too large for your hand will be loose, leaving room for injury.
While testing out a new pair of gloves, it's important to wear hand wraps during the process. While boxing, they are essential in protecting the hands, as well as taking moisture out of the gloves.
Boxing gloves quick fitting tips:
Fingertips should easily touch the top glove.
It should not take too much effort to make a fist.
The heel of your hand should rest completely inside the glove and not extend past it.
With your hand outside of the glove, hold it up to the back of the glove, simulating your hand being inside, your wrist should line up with the end of the glove compartment, and not extend into the wrist section of the glove.
A few notes on sizing specifications:
Sizes in Ounces: Boxing glove sizes come in various weights (ounces), with the exception of MMA gloves that are sized Youth-XXL, along with bag gloves that are normally sized both in ounces and Youth-XL. The weight of the glove corresponds with the amount of padding it contains. The weight of your glove is dependent on your activity along with your physical weight. For example, if a boxer's physical weight is 180 pounds, she will need a 16 oz glove that contains more padding so that her sparring partner is more protected.
Glove Compartment Sizing: Typically, the glove hand compartments can be the same size because they are made from the same mold. For instance, a 12 oz through 16 oz size glove may have the same size hand compartment with the difference being more or less padding, and the amount of weight in the wrist section to compensate when there is more or less padding. It is when you get into the smaller petite sizes such as 6 oz and 8 oz that the compartment size changes. Additionally, hand compartment sizes can vary greatly from brand to brand.
Take a look at this handy boxing glove sizing chart: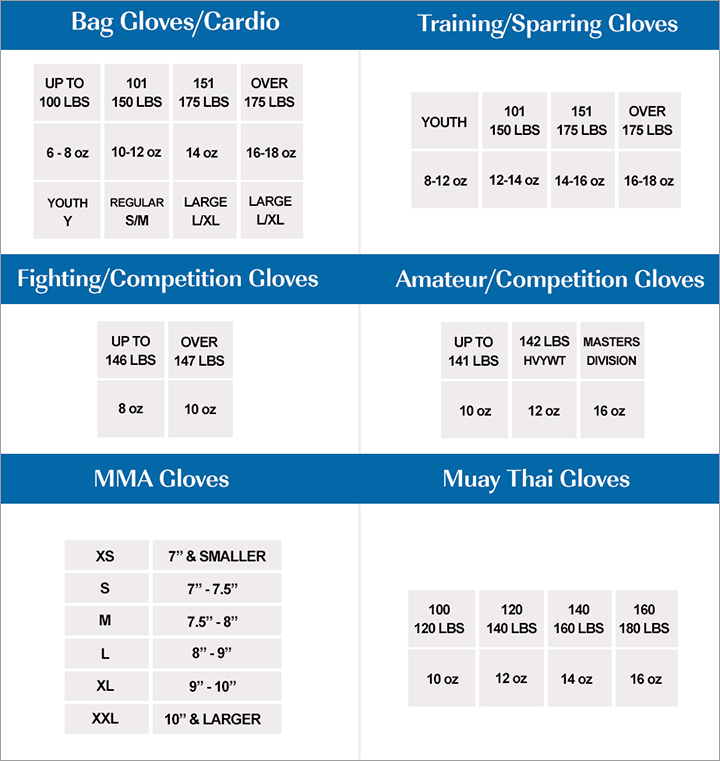 Does the Boxing Glove Material Play an Important Role?
It plays a very important role. I have included a few essential elements to consider when looking for a quality boxing glove.
Leather VS Vinyl Gloves: Boxing gloves made from vinyl may seem like an optimal choice to a beginner, but in reality, leather is always the best choice. Leather boxing gloves would make the perfect addition to any woman's boxing gear collection. They will stand the test of time, resist tears, and have better breathability.
Good Quality Foam/Padding: A well-made boxing glove will have quality foam that offers great protection for your hand as well as your partner. Certain gloves will contain foam padding that springs back easily for superior protection. You can choose, based on your preference, closed cell foam or open cell foam. Closed cell foam is firm, while open cell foam is softer. The softer foam is easier on the hand and better for those that may have a hand injury. Also, check if there is adequate padding around the wrist so that it will remain stable while punching.
Sweat Resistant Inner Lining: A proper inner lining can extend the life of your gloves. Quality gloves will offer a sweat-resistant and antibacterial lining. This will prevent bacteria from taking over.
Lace-up Gloves VS Velcro Gloves
Deciding to go with lace-up or velcro boxing gloves could seem trivial, but it's actually important, for a few reasons. Have a look at the pros and cons of these two closure systems so you can make an informed decision.
Lace-Up Gloves: PROS – This type of closure system is said by some to offer better support. This is due to its ability to cinch up for a secure fit. Although not a deal breaker, lace-ups offer the opportunity to talk to other boxers as you ask for their assistance in lacing or unlacing them. CONS – Lace-up boxing gloves are almost impossible to put on and take off by yourself. This can become a problem when training alone.
Velcro/Hook & Loop: PROS – Its best quality is convenience. Velcro provides a fast and easy way for boxers to put on and remove their gloves themselves. CONS – The velcro hooks, or the velcro itself, can possibly degrade your wrap if they frequently come into contact with it. Additionally, a sparring partner can be injured by the velcro if it is not secured properly.
Can You Recommend a Few Brands that Offer Great Boxing Gloves
Although there are many great brands out there, these select few are worthy of mentioning. You may find that you prefer one brand over other for personal reasons.
Here are 10 great recommendations from top female boxers:
Cleto Reyes
Winning
Grant
Rival
Ringside
Title
Longsdale
Adidas
Fighting Sports
Pro Mex
Check out these 5 popular MMA glove brands:
Hayabusa
Fairtex
Combat Sports
Venum
Title
As a woman new to boxing, I realize that finding the best boxing gloves can be a bit confusing. When searching for the boxing gloves that you feel will be right for you, be sure to focus on safety, comfort, and quality. I hope this beginner's guide to choosing the best boxing gloves for women has been helpful!